Google has retired Smart Shopping campaigns and has replaced them with Performance Max campaigns. Get up-to-date information on Google Performance Max here.
Managing your Google Shopping campaigns can be incredibly time-intensive, particularly if you have a substantial product feed in your Google Ads account. To help lighten the admin load, Google developed their free bidding automation tool: Google Smart Shopping. Here's a comprehensive guide to Google Smart Shopping.
Contents
What is Google Smart Shopping?
Who is Smart Shopping for?
How does Smart Shopping work?
How does Smart Shopping use tracking?
A/B testing Smart Shopping campaigns
What is Smart Bidding?
Drawbacks of Smart Shopping
Why data "black boxing" is detrimental
What are the alternatives to Smart Shopping?
Compare bid management options
Additional resources
What is Google Smart Shopping?
Launched in 2018, formally known as Universal Shopping Campaigns, Smart Shopping is a type of campaign that sits within the Google Ads platform. It automates the bidding process based on your chosen strategy.
Who is Smart Shopping for?
The ease of Smart Shopping makes it a good option for smaller advertisers who are new to Google Shopping, or retailers for whom Google Shopping is a minor channel for acquiring new clients. The primary attraction of Smart Shopping is that you can simply "set and forget" the campaign and leave it running.
Small retailers often find that manually managing Google Shopping is complex and time-consuming, and don't have a large budget to pay for the specialist expertise of an agency, in-house team or technology provider like Bidnamic. Which makes Smart Shopping an attractive smart bidding strategy option.
Find out if Google Smart Shopping is for you
It can also be a good choice for retailers to use Smart Shopping where Google Shopping is perceived as supplemental rather than a core revenue driver.
Smart Shopping also works better for retailers that sell entirely online. As soon as offline conversions are considered, it's significantly more difficult and time consuming to input offline sales. We work with a number of clients who experience a high number of offline conversions, like Kitchen Restock, and work closely with them to utilise Google Shopping data in offline sales activities.
How does Smart Shopping work?
With the "set and forget" approach, retailers input their targeted ROAS and set a budget. From there, Google takes care of the bidding, removing the need for manual bidding.
Smart Shopping campaigns have a broad reach, serving adverts on the Google Search Network, as well as the Google Display Network including YouTube, Gmail, and third party websites and they typically all perform very differently. This means you're unlikely to be able to see performance based on placement, as the data can only be segmented by cross-network and search network: there's no control over bidding by network type.
We see many examples of Google advertising products for the wrong search terms. For example, ads offering Star Wars cardboard cutouts when users tap in the search term "Star Wars DVD". Working on a broad, generalised level results in a lack of control and potentially wasted ad spend.
How does Smart Shopping use tracking?
Smart Shopping is dependent on accurate tracking information. Even advanced advertisers struggle to achieve the levels of accuracy required.
Double-tracking of conversions is a frequent problem, caused by carts being refreshed due to missing transaction IDs within the conversion tracking pixel, or by firing the conversion tracking pixel on every product page when it loads, rather than the order confirmation page only.
A/B testing Smart Shopping campaigns
Mid 2021, Google began offering a tool that enables retailers to A/B test their Shopping campaigns against Google Smart Shopping campaigns.

Naturally as marketers, any opportunity to A/B test campaigns and strategies is already appealing, and Google Shopping reps often recommend giving part of the catalogue to Smart Shopping to run in parallel.
Initially, it sounds like a great idea. However, there are some issues with the way the test works, and the validity of the results.
Discover the Google Smart Shopping 'Trap'
What is Smart Bidding?
Smart Shopping uses Smart Bidding, a type of automated bid strategy using machine learning for the purpose of optimising conversions in each auction. Bid strategy options include Target CPA, Target ROAS, Maximise conversions, and Maximise conversion value.
Drawbacks of Smart Shopping
As an automated solution to bid management, Smart Shopping is able to relieve merchants of time spent poring over the ROAS for thousands of SKUs, making – hopefully – accurate bid adjustments. What's great for formerly brick-and-mortar retailers (and other non-digital natives) is that Smart campaigns are also fairly easy to set up.
However, in addition to having no ability to adjust bids for different brands, products or SKUs, and not being able to choose your target audience (Google does that for you), there are a number of other limitations to what you can do with Smart Shopping:
Negative keywords are not available in Smart Shopping. Without negative keywords, you will be wasting valuable budget on irrelevant search traffic. We have seen many examples of this, for example, Shopping ads for window blinds appearing in searches for guide dogs for the blind.
You have no control of network placements. Not having the option to exclude undesirable networks means you'll have to pay for clicks from unwanted traffic.
Limited location targeting . You can set the country, but you can't target a specific region or exclude a city.
Ad scheduling is out of your control . Google decides the best times and days to spend your budget, and you have no visibility into how that is decided.
You can't choose which devices to target. If your target audience mainly uses mobile, you'll still have to pay to run ads on laptops and tablets too.
Challenges with attribution modelling. Combining Shopping campaigns with display ads and remarketing makes it impossible to attribute results to one channel or the other. You have to take Google's word that combining the two is in your best interest.
You lose the ability to prioritise specific products. There's no way to promote/demote certain products, for example, if you want to shift some end-of-season stock or get rid of a backlog of less popular sizes.
Smart Shopping cannot leverage and analyse data of sales made through other channels (e.g. offline). If you earn significant business through offline/phone-based sales then Smart Shopping might not work well for you.
However, the greatest disadvantage to giving Google control over your Shopping campaigns is the subsequent lack of transparency. Smart Shopping is a 'black box' which prevents access to your valuable search term data. If it was available, this data could be used to develop and guide your business across areas such as SEO, other paid advertising channels, feed optimisation, and new product development.
Unable to access your data and insights from Google Smart Shopping campaigns?
Why is Smart Shopping's data 'black box' detrimental?
Smart Shopping removes access to performance data – a critical resource in subsequent decision-making for ecommerce companies. The data 'black box' renders retailers unable to access their own data for optimising other channels of their business.
Performance data is invaluable – not only does it illustrate exactly which keyword search terms are triggering your ads, but this information can also be repurposed for marketing in other digital channels like SEO, social media, and even other marketplaces you may already sell on. This information is free and totally unique to your account – so why hand it over to Google with your wallet?
Four invaluable things you could do with your Google Shopping search data
What are the alternatives to Smart Shopping?
Google Shopping agencies
Lots of marketers like the control that comes from managing campaigns manually. It allows you to adjust bids based on unique variables, for example, stock availability.
But hundreds of campaign metrics, thousands of products, and tens of thousands of search terms mean that staying on top of Google Shopping management has gone beyond what humans can manage.
Specialist PPC agencies use scripts or third-party tools, often spreadsheet-based, to automate reporting and generate optimisation suggestions. These then need to be analysed, and the best of them implemented manually using some form of block bidding.
Bidnamic: advanced machine learning, years of human expertise
At Bidnamic, we combine machine learning with human thinking to get the best results. Our automated bidding platform is 100% transparent, providing granular data insights.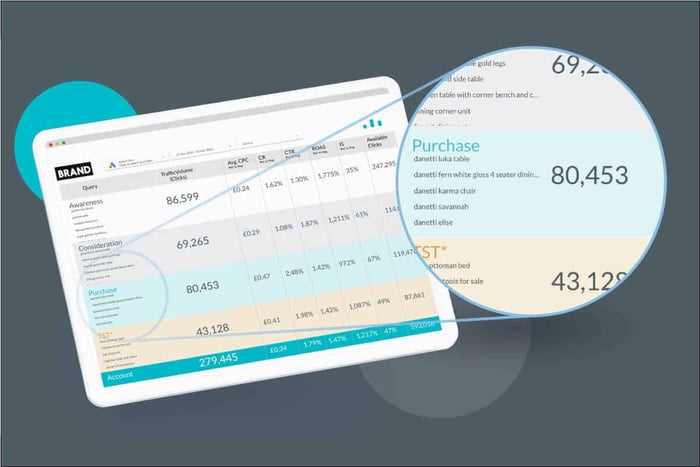 We know that no one knows your business like you do, which is why we keep you and your brand expertise at the heart of decision-making.
With regular catch-up calls with our Client Success team, you and your agency can communicate concerns, discuss new ideas, plan for upcoming retail events, and receive a thorough report on the results of your Google Shopping campaigns.
With Bidnamic's unique SKU level approach we are able to:
Match search terms to individual SKUs. This enables us to understand why that product didn't convert, without this you're buying traffic blindly.
Use real-time search term data to pick up high performing search terms. Being able to understand the intent behind each search query and being able to control how much to bid for each search term gives retailers an edge over competitors on Google Shopping. What's more, access to a wealth of real-time data enables retailers to make use of this highly valuable data across other channels.
Use natural language processing to match relevant search terms and bids more aggressively for long-tail search terms. This means that the retailer using Bidnamic consistently outrank those using the limited smart shopping bid range. Ad budget is also saved from none relevant terms (negatives) as well as bidding appropriately for awareness and consideration terms to maximise profits.
Quick reference: Smart Shopping, agencies, and automated independent platform
Final thoughts
Smart Shopping is a great inexpensive tool for beginners and smaller retailers. However it does have its limitations, the main one being a lack of control and a loss of valuable advertising data that was expensive to acquire.
If you're an established retailer wanting to make more out of your data then Smart Shopping is definitely not the tool to use. Bidnamic's advanced machine learning platform is not right for every business, however, if you'd like to speak to one of our Google Shopping experts you can book a call with us today.
Additional resources
• You can check out how Smart Shopping measures up against Bidnamic here.
• How does a Google Shopping or PPC agency manage your Google Shopping?
• Click to read how Bidnamic's machine learning approach operates differently from a PPC or Google Shopping agency.
• Combining Bidnamic's machine learning platform with the expertise of a PPC agency.
• How Bidnamic's machine learning technology works
• Advanced techniques for optimising your conversion rate
• How to get started with Google ads Performance Max