Impact in Numbers
134%

Revenue growth

30% Conversion rate increase
31% Average CPC reduction
The scoop
Northern homeware retailer brightens bland walls with colour, passion, and immense inventory of sustainable artworks
Happy Little Home offers a gallery of home décor and wall art depicting symbolic landmarks, legendary gaming, and chic abstract prints to name just a few.
At the heart of their passion, they aim to adorn any bland and boring wall with unique, high-quality art, all the while minimising the environmental impact of their products.
Happy Little Home joined Bidnamic in April 2020, leaving their manual management behind for a machine-learning approach that would enable them to challenge their industry-leading competitors.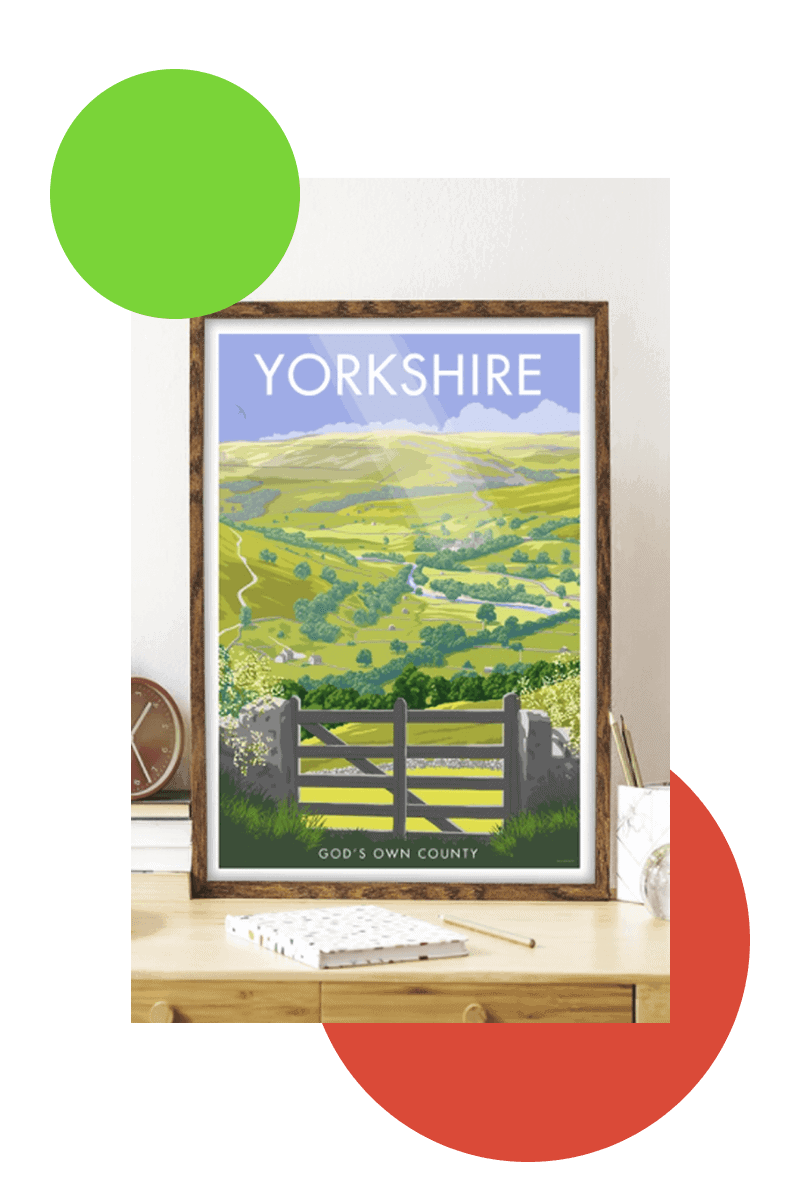 The challenge
Happy Little Home needed an automated solution to take care of their huge SKU catalogue whilst driving sales growth
In their eyes, success is measured not only by their volume of sales, but by the share of impressions they dominate on the Shopping carousel. It's no secret Google Shopping is difficult to manually manage to a profitable end, and even more so for retailers housing tens of thousands of items.
For an account this large, there's simply no possible way to make manual bid adjustments at a granular level. Instead, Google recommends actioning bids at the group level. However, they don't warn of the ad spend wasted on overbidding for different products, or the potential visibility missed out on when bidding too little.
Bidnamic's automated technology can simultaneously measure changes in hundreds of market variables for each SKU. Consequently, our platform can calculate an accurate CPC for every SKU variant, eliminating wasted ad spend whilst boosting relevant, purchase-ready traffic.
Working with Bidnamic has enabled Happy Little Home to significantly grow our revenue, ROAS, and conversion rate, whilst cutting our average bidding costs by almost a third. Their technology was able to pick up on and win surges of traffic for our Mandalorian products when the show broadcasted on Disney+.
The solution
An automated bidding approach was required to manage their vast SKU catalogue, and create a level playing field to compete against industry house-hold names
It was imperative for Happy Little Home to upgrade their approach to a fully managed, automated solution – one able to react to market trends on a 24/7 basis. This enabled Happy Little Home to concentrate on other aspects of business, without compromising on visibility, ROAS, or revenue.
Moreover, our recently developed Targeted Search Term algorithm allows us to identify highly converting search terms and bid more aggressively for this traffic, increasing negative keywords to focus in on popular search queries.
Happy Little Home is another example of a medium-sized business successfully competing against colossal corporations equipped with an unfair advantage: Bidnamic's machine learning platform.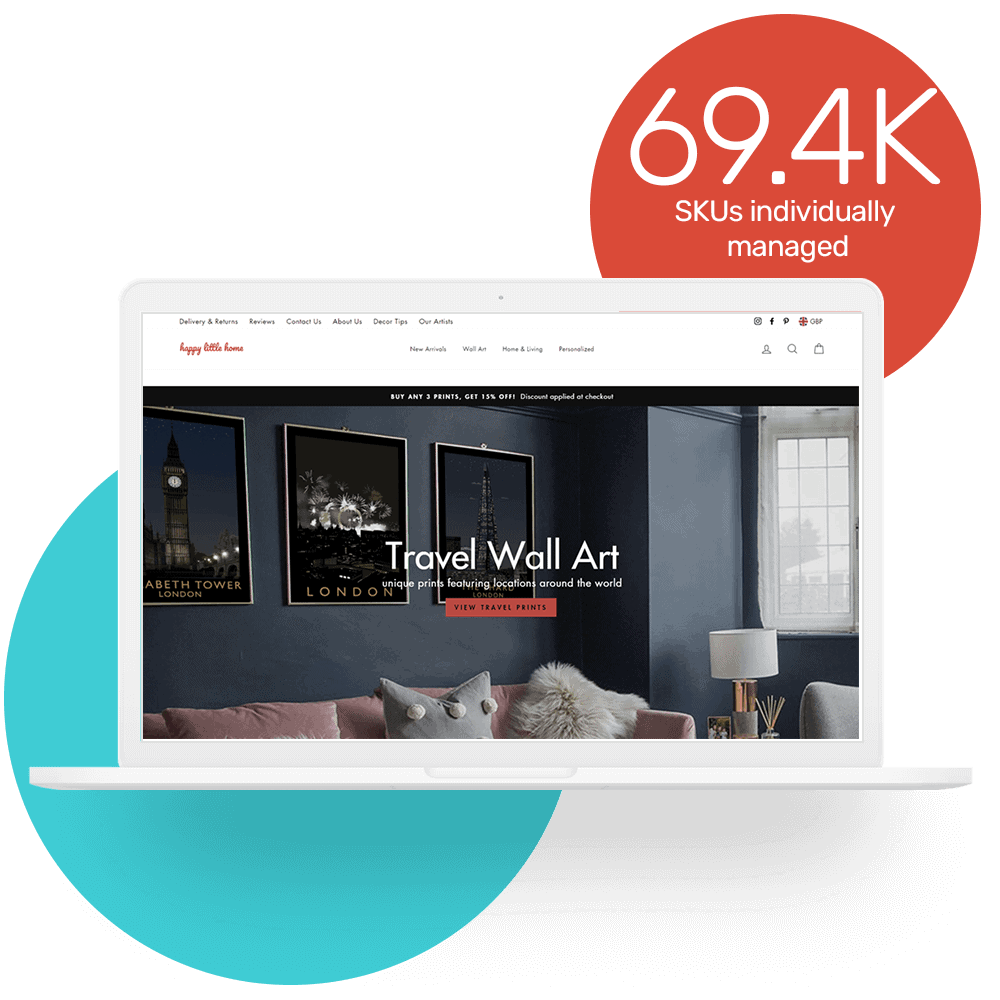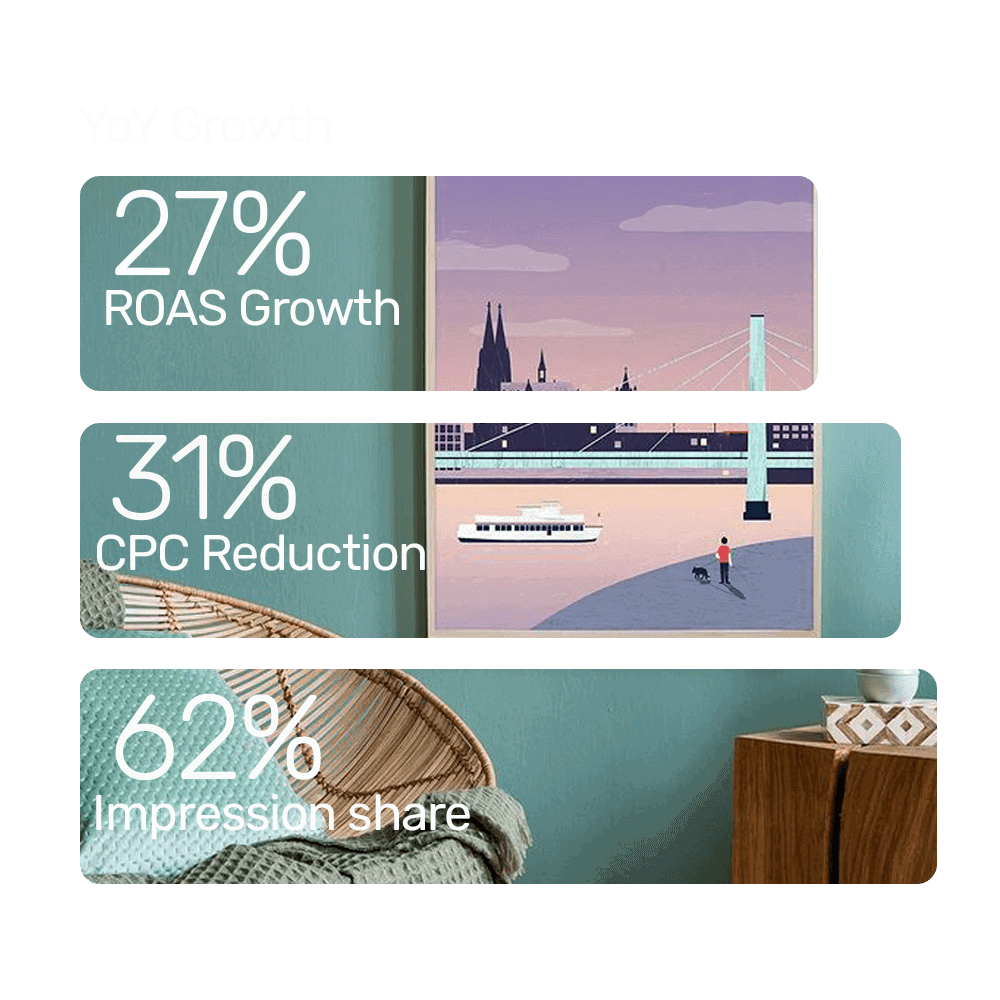 The results
Revenue increased 134% YoY with Bidnamic's automated bid management solution
YoY conversions have increased by nearly a third, YoY ROAS has grown 27%, all the while cutting CPA by 47% YoY. Their goal of dominating impression share was achieved too, scoring 62% more YoY.

Moreover, during this short period of acute development, Happy Little Home's Founder, Rob Little, has been able to acquire a new, larger warehouse, increase his product range, and even extend his product offering.

His greater offering generated so much success that the items had to be temporarily removed from his site whilst the team caught up on orders of the popular personalised gifts.

Finally, our Targeted Search Term technology enabled us to zero in on converting queries for Little's Mandalorian poster series, identifying the influx of traffic in real time as the show aired on Disney+.
You might also like these case studies
What's limiting your performance?