What does our team do?
We're the online face of Bidnamic. Our team crafts content of all kinds: from articles and videos to case studies and downloadable guides - we do it all.
We're the experts when it comes to our website, and we also work closely with our inbound sales team to help attract potential clients.
Why join our team?
We all joined the team with our own strengths, but we all have the opportunity to try new things and develop existing or desirable skills. We're open-minded: if you've got a creative new idea, we'd love to try it.
We're a close-knit team that works together to produce results. We're also firm believers in flexibility and understand that to achieve their best people have different ways of working. Accountability is a big part of our team's culture, and we're all trusted to get sh*t done.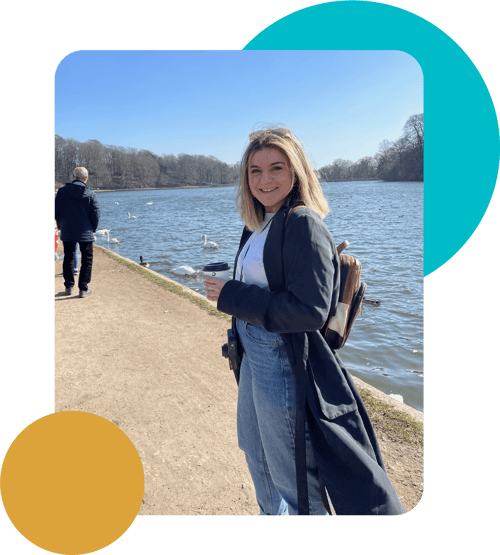 I started my career in the sales team, but I was eager to put my marketing degree to good use. I became a Content Marketing Executive, writing articles and getting to grips with our CMS and task management system. I've come a long way and learnt a lot about marketing, ecommerce, and Google Shopping - mostly just by doing.
I'm one of two Senior Content Marketing Executives at Bidnamic where my day-to-day tasks can vary between content writing, planning, meeting with consultants, and overseeing the team's content pipeline.
The variety enables me to switch from a spreadsheet to creative writing, or sidestep my writer's block to plan projects instead. I get to work with every department: writing about what they do, what they've discovered, and how they've helped our clients.
When I joined the marketing team, we had one office and less than 15 employees. Fast forward three years and we have a team of over 100, two offices in the UK and one in the US. To say working at Bidnamic is fast-paced is an understatement.
As a Senior Content Marketing Executive, my role varies daily. Some days I'm behind the camera producing video content for our social media channels, and other days I'm reviewing artwork for our paid ads or analysing the success of our social media campaigns.
The flexibility of my role has given me the freedom to control my day and work in an environment which works best for me, whether it's at home or collaborating in the office.