Contents
Why do retailers use Google Shopping?
How to set up Shopping campaigns
Optimizing campaign structure
Google Shopping management options
How does Bidnamic manage Shopping campaigns?
Additional resources
Since its launch, Google Shopping's image-based product listings have proved highly attractive to consumers. It has become the main source of new customer acquisition for retailers: data from Bidnamic's platform shows that by 2020 Google Shopping's share of retail paid search clicks had reached 65%.
Enhancements such as Showcase Shopping ads and Smart Shopping have increased the audience and lowered the entry barrier for advertisers, which have in turn led to increased competition. Amazon hasn't been slow to react, and in many verticals is winning over 50% of impressions on Google Shopping.
Google has retired Smart Shopping campaigns and has replaced them with Performance Max campaigns. Get up-to-date information on Performance Max here.
As well as being a highly competitive channel, the process of managing Google Shopping campaigns can be complex and time-consuming. Watch our video, or continue reading to get a better understanding of what's involved.
Why do retailers use Google Shopping?
Of all the options for search marketing, Google Shopping offers predictable, consistent results: Bidnamic's growing database of tens of millions of products shows that retailers can expect a ROAS between 3x and 12x, depending on factors such as the competitiveness of your market, your range of products, and the margins you can achieve.
How do I set up Shopping campaigns?
Shopping Ads are created in Google Ads, just like text ads. Once you've set the campaign up, Shopping Ads draw on the product data from your Google Merchant Center to display your product image, pricing, product title, and more.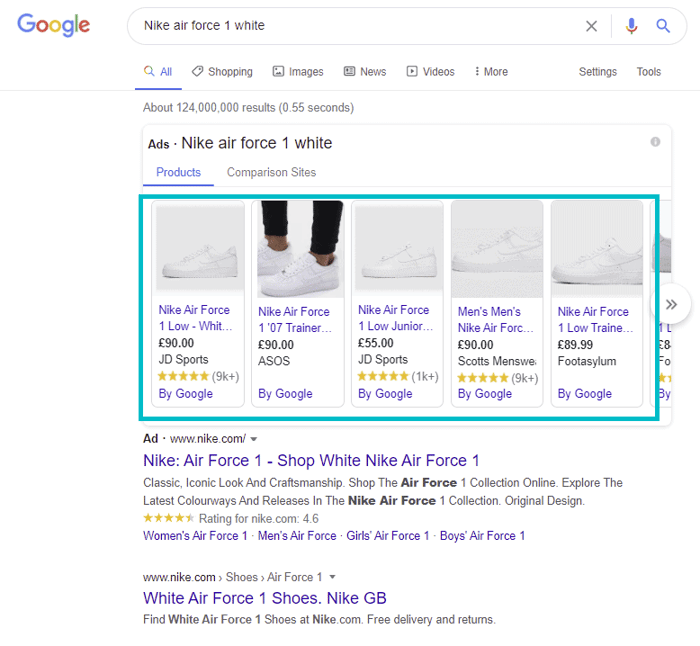 What's the best way to structure my Shopping campaigns?
Custom labels
There's no catch-all approach to structuring your Google Shopping campaigns – the right way to do it varies for each business. However, there are still a number of ways to optimize each campaign, and using custom labels is a good place to start.
Custom labels are a good way to create smarter Google Shopping campaigns. Custom labels will help you organize the campaigns by the various attributes that are important to you as a retailer, such as seasonality, different price points, stock availability or promotions. You can apply up to five custom labels to your product feed. The custom labels are only visible internally and are for your own use in campaign optimization activities.
How to use custom labels in your Google Shopping campaigns
Are you making the most of custom labels to attract deal-seekers?
Negative keywords, inventory filters and campaign priorities
Other options for structuring your Google Shopping campaigns are to use functionality within Google Ads to set negative keywords, inventory filters and campaign priorities.
Negative keywords ensure that you reduce the risk of your Shopping ads being displayed to the wrong audience. If you sell Nike shoes and not Adidas shoes, for example, you would set "Adidas" as a negative keyword.
Sometimes the list of relevant negative keywords can run into the thousands, or tens of thousands, which is when you should consider using an automated solution (see the table below.)
Inventory filters are useful for sub-dividing your inventory. If you sell both new and refurbished smartphones, for example, you can use inventory filters to avoid advertising your new smartphones when the search is for a refurbished model, and vice versa.
You can use campaign priorities to highlight the products you wish to sell more of. In Google Ads, this feature provides a way of selecting a bid price when you're selling products through multiple campaigns. The campaign priorities can be split into high, medium, and low. The priority levels override the bid at auction time, so a high priority campaign with a lower bid will be used before a medium priority campaign with a higher bid.
Read more about using keywords, inventory filters and campaign priorities
What's the best way to manage Google Shopping campaigns?
There's no definite answer here: it's up to you to consider the pros and cons, and quite simply what suits your needs best.
The options are to manage your campaign manually, using in-house expertise, to outsource it to a specialist PPC agency (many of which use scripts and tools to automate workflows), to use Google's entry-level Smart Shopping automated tool, or a more advanced solution like Bidnamic's machine learning platform.

How does Bidnamic manage Google Shopping campaigns?
'Machine learning, human thinking'
Bidnamic has engineered a winning approach to Google Shopping, combining advanced machine learning with deep human expertise to uncover a granularity of data and management that has not been possible previously.
In our experience, automation can only take you so far: a deep understanding of your business and your market, paired with human oversight is crucial in managing bids for your account.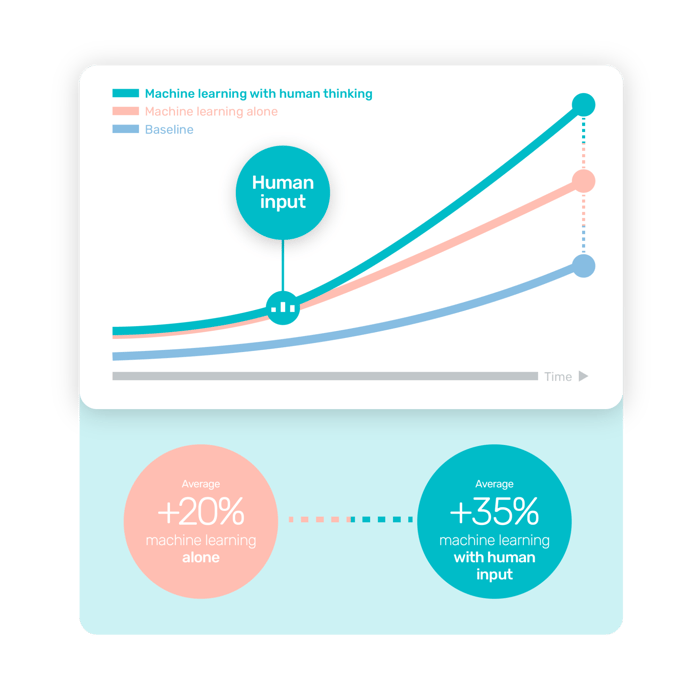 Our machine learning platform analyzes hundreds of variables for every single product SKU, predicting the right price to pay, based on the purchase intent of each search term, 24 hours a day, seven days a week. Our approach can be summarized in three questions:
Who is doing the shopping?
These variables include the geographic location of the user, the device used for research and purchase, day-parting, the demographics of the users, and remarketing lists for search ads.
What are they shopping for?
Here, we consider the conversion rate, product margin, average order value, and customer lifetime value for each SKU.
Why do we think they will buy?
While many other agencies consider crucial factors like conversion rate and product margin, Bidnamic goes one (huge) step further. Our data-driven automation is able to filter search terms by purchase intent, consistently updating the purchase intent level of each search term based on real-time changes in conversion rate, click-through rate, and many more variables for each SKU.
Rather than paying the same for all search terms, this enables us to bid more aggressively for search terms with high purchase intent. Thanks to the consistent operation of our platform, we're able to pick up on upticks in converting traffic in real-time and bid more aggressively for these search terms too.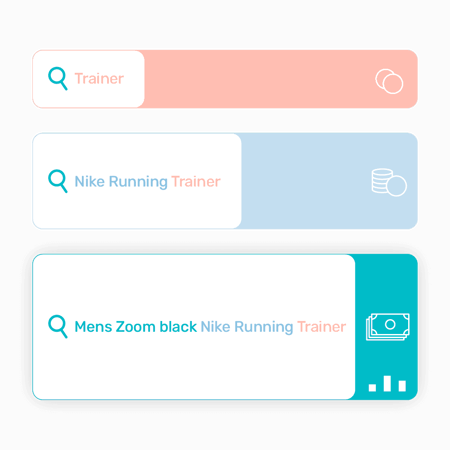 Ideally, for search terms with high purchase intent, we want to get your product into that top impression on the carousel. For mid-level (or "consideration level") search terms, we would still like to serve your product in the second, third, or fourth impression.
Finally, in Google's auctions for search terms with considerably lower conversation rates, we want to appear in that fifth position of the carousel. This way, your product is still available to win converting traffic but isn't as likely to be clicked on if the user is still at the beginning of their purchase journey.
SKU level bidding
Google's 'best practices' recommends grouping SKUs by product category, gender, etc. This approach, aimed at retailers manually updating their bids, calculates one CPC for all the SKUs in the group using broad average values. Unfortunately, this means that you're underbidding for some SKUs – missing out on valuable traffic – all the while bidding unprofitably for others.
While some of your SKUs may be sitting within their own sweet spot, it's difficult to bid just the right amount for each SKU when you don't consider the data on a granular, SKU level. Thanks to the automation in our approach, we're able to create an accurate CPC for every single SKU in your inventory, so you're never spending a penny more than you need to.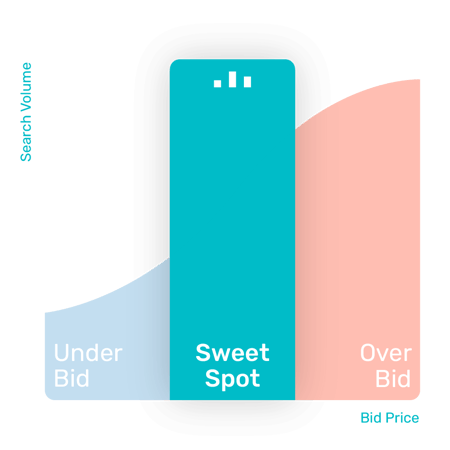 Targeted Search Terms
For most retailers manually managing Google Shopping or adopting the Smart Shopping tool, there is no opportunity to target specific search terms.
However, we have successfully developed Targeted Search Term campaigns which we are available to add to our Bidnamic management offering. This technology identifies and adjusts bid prices for high performing, individual search terms that apply to an individual SKU, creating an unparalleled level of granularity to Google Shopping management.
This feature allows us to capture individual outlying search terms. This could be a search term used so infrequently that we optimize bidding by reducing it to a penny. On the other hand, we can apply a much higher unique bid (e.g. $5) to a search term appearing very high in the purchase intent group if the result would be a profitable sale.
Transparent data
When it comes to advertising on Google, your greatest asset is the data you receive about your ad campaigns. Without data, it's impossible to have an accurate understanding of what is working, how you allocate your ad spend, and who you should continue to target and remarket towards.
For retailers using Google Smart Shopping, the platform fails to demonstrate how it spends their budget or the search terms triggering each of their Shopping ads. Retailers are restricted in their insights, and cannot apply this critical information to target shoppers at the end of their purchase journey, or using other marketing channels.
We ensure our process is transparent and your data is always available to view and gain insights from. That's why we provide our clients with a personal 13-page interactive dashboard within their Data Studio accounts. Moreover, regular consultations with our Customer Success team allow our clients plenty of opportunities to discuss innovations in their digital marketing approach and to highlight any concerns they may have.
Bidnamic unlocks your data. No more guess work.
Final thoughts
If you're looking to achieve a greater target ROAS while cutting back on your CPCs, it may be worth booking a demo with one of our Google Shopping specialists. We're not for everyone, and not everyone is for us – let's make sure you choose the right bid management tool for your business.
Additional resources
• Read how Bidnamic's machine learning approach operates differently from a PPC or Google Shopping agency
• Read more about the pros and cons of Google Smart Shopping
• How Bidnamic's advanced machine learning platform works
• What is a Google Shopping campaign?
• How to structure Google Shopping campaigns