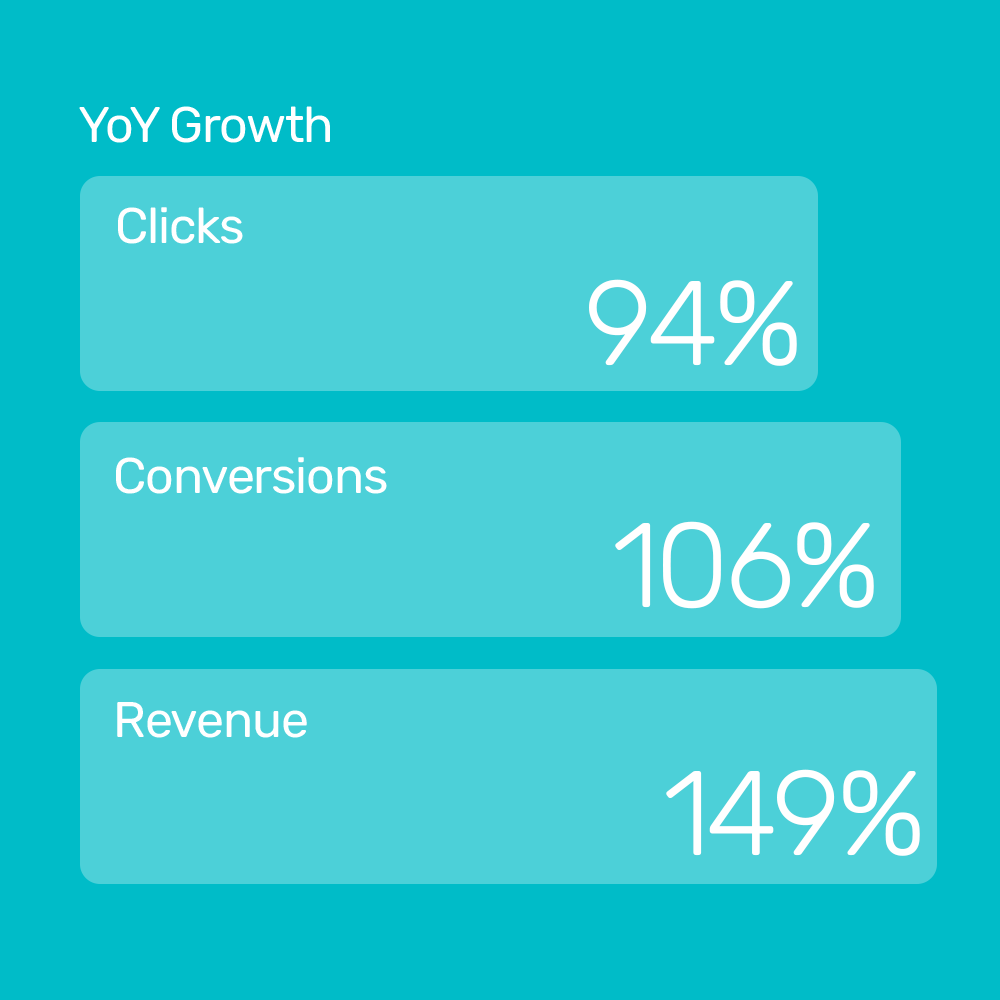 The results
Go Places goes the distance, achieving Google Shopping goals and then some
Despite onboarding with Bidnamic just months prior to a global pandemic that brought local and international travel to a standstill, Go Places witnessed continued success. With help from Bidnamic's machine learning, human thinking approach, Go Places achieved their goals of growth, visibility and profitability and even recorded their greatest month ever in terms of volume and ROAS.
Fast-forward a couple of years and a global pandemic (finally) over, Go Places are thriving more than ever. They've recently achieved record breaking months, with a huge 149% spike in revenue YoY. Their conversions are up at a whopping 106% and their clicks have increased by 94%, making Go Places the place to be on the Shopping carousel.
It's a pleasure to be on this journey with Go Places, and we're super proud of the results they've achieved from joining us pre-pandemic to now. We have no doubts that they will continue to improve even further!
The challenge
Go Places had hit a glass ceiling in performance managing bids manually
While the specialists were finding success manually managing their Google Shopping campaigns, the team at Go Places felt the platform still held more opportunity for growth.
Yet, the market for luggage and accessories is already heavily saturated and gaining visibility and volume in a profitable way has become a difficult task, especially for retailers operating with manual bid management.
A global pandemic shutting down national and international travel was the cherry on top of the challenges facing Go Places. If Go Places were to survive travel bans and continue to grow their business, they would need a solution capable of recognising high purchase intent.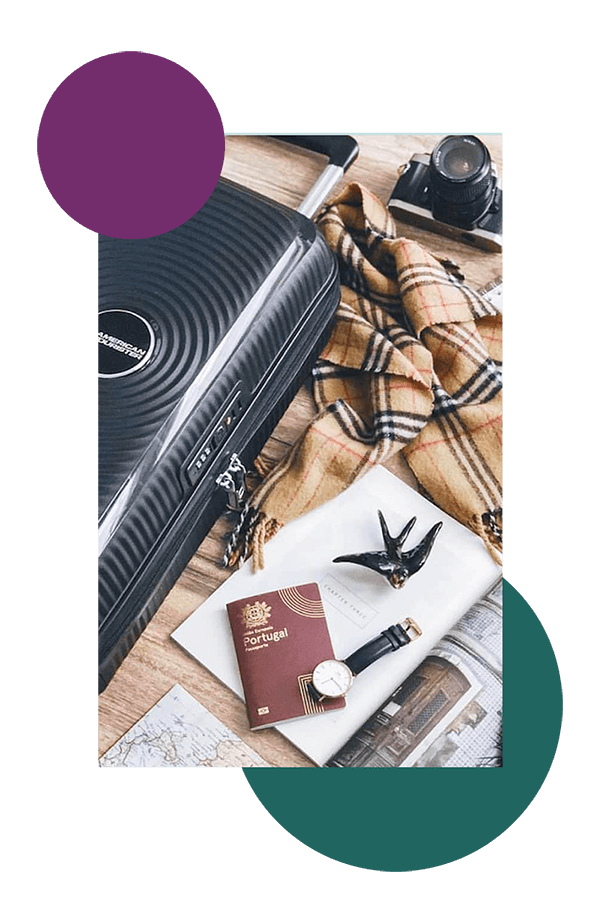 Bidnamic have not only driven good results in a seriously challenging market but have offered a great deal of 'hand-holding' through this time, so on a personal level they're also so great to work with. Post-pandemic, we've continued to experience record breaking months with the help of Bidnamic's technology. We're still incredibly satisfied with their service and can't recommend them enough.
The solution
Bidnamic's machine learning, human thinking takes the weight off your shoulders
Bidnamic's technology is able to categorise search term purchase intent into three main categories using real-time and historical data like CTR and CR. Our most recent in-house development, Targeted Search Terms, identifies extreme outliers and bids more aggressively for high-converting search terms.
What's more, Bidnamic makes it possible to analyse performance data and action a new CPC for every single SKU in your catalogue - no more using broad averages and general calculations. Our granular automation determines the "bidding sweet spot" for each SKU and adjusts the CPC accordingly - a process which takes place as often as necessary.
Bidnamic clientele also receive machine learning with a human touch. Each week catch-up calls are scheduled with your dedicated Client Success Manager and Data Analyst to discuss account goals and performance, and to provide any advice for your Google Shopping strategy and beyond.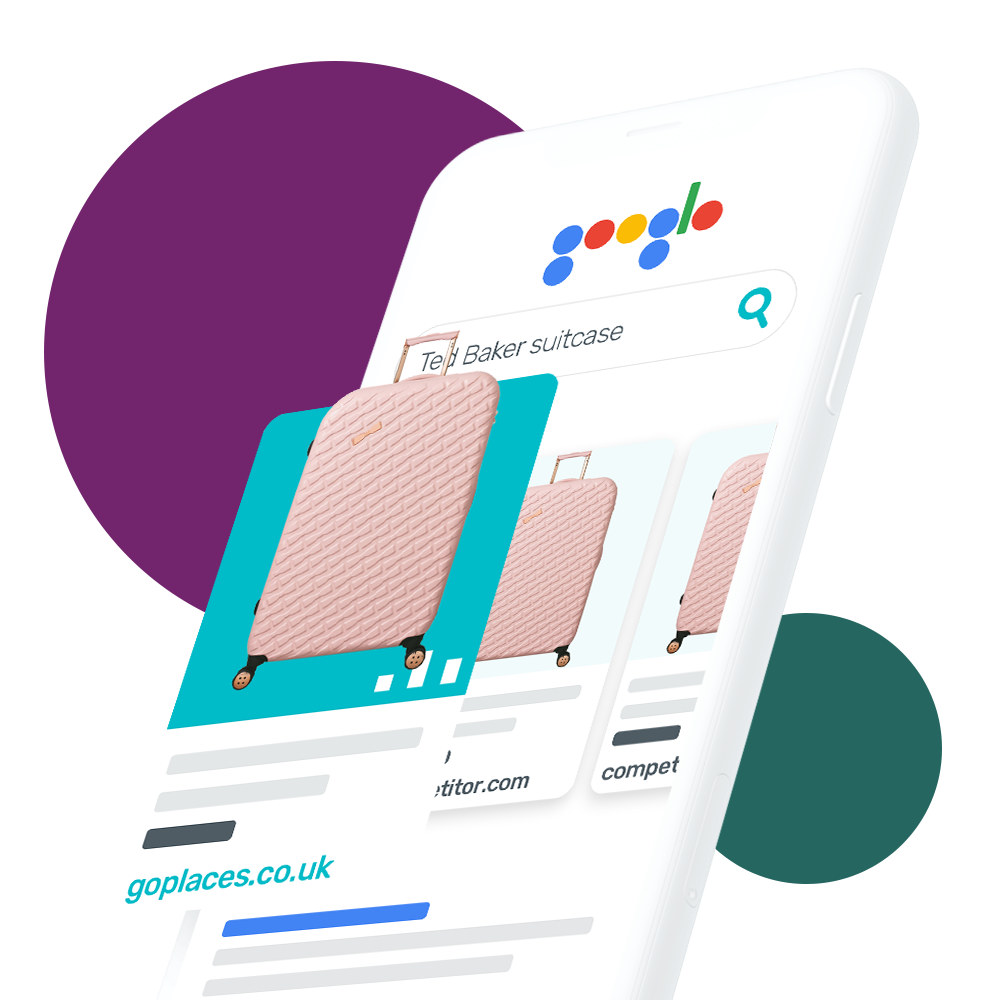 The scoop
With over 50 years of experience, Go Places continues to thrive online
Go Places is one of the first specialist online retailers in the UK having offered quality luggage pieces since 1969. Over half a century later, the specialist continues to provide designer luggage to jetsetters across the British Isles.

Equipping their online store with quality tools like Shopify's ecommerce platform, Go Places is serious about the service they provide. Priding themselves with a high quality shopping experience, Go Places received a Platinum Trusted Service Award from Feefo.

Purveyors of quality products, it's essential to Go Places that the quality of their service matches, endeavouring to give a personalised experience with that all important human touch.

You might also like these case studies
What's limiting your performance?